Colorado State University's Center for the New Energy Economy (CNEE) has launched an Advanced Energy Legislation (AEL) Tracker, a database tracking energy-related state legislation pending in all 50 states. Types of energy include solar, wind, biofuels, natural gas and more. The AEL was created in partnership with Advanced Energy Economy (AEE) and the system will also enable CNEE to conduct analysis of trends in state energy legislation.
To date, there are more than 2,100 bills being considered in U.S. states and the energy tracker monitors the progress of each bill as they move forward. Of these bills, nearly 25 percent call for new financing tools, including tax incentives, for the installation of energy facilities. In addition, roughly 21 percent of the bills are promoting development of clean energy sources, and about 8 percent encourage the adoption of energy-efficient appliances, building codes and practices.
If we look at where the country is going on advanced energy policy, overwhelmingly that transition is being led by states," said Bill Ritter, Jr., director of CNEE and former governor of Colorado."To get the pulse of where the country is going we need to understand what the states are doing."
Ritter continued, "AEL Tracker brings together information on energy-related legislation in all 50 states, in a form that is easily accessible not only to lawmakers at all levels of government, but to academics, analysts, environmentalists, funders, business leaders and the general public. It will allow our Center to conduct critical academic analysis of issues to energy legislation nationwide."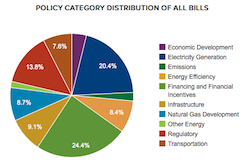 The Center's first trend analysis, "Rediscovering the First Fuel," focuses on energy efficiency and anticipates publishing 2-3 analyses per month. The next white paper will focus on financing of advanced energy.
Graham Richard, CEO of AEE added, "This online database provides information on critical state legislation that is available nowhere else. AEL Tracker is a nonpartisan tool that allows researchers, journalists, policymakers and concerned citizens to follow and analyze advanced energy legislation, individually and in aggregate. We hope this unique database will increase awareness of advanced energy and the way state action can unleash its economic potential for the United States."