Northern Power Systems has launched two new wind turbine models specifically designed for low wind sites. The NPS 60-23 and the NPS 100-24 are based on the NPS 100-21 platform, but according to the company, leverage product features that produce higher energy capture in low winds while reducing the noise profile of the turbine. To date, more than 20 of these turbines are operating in the U.S., United Kingdom and Italy.
"NPS is committed to delivering enhanced offerings that lower costs and increase performance for turbine owners," said Troy Patton, President and CEO of Northern Power Systems. "We are increasing the value proposition of our already highly-capable NPS turbines through an integrated road-map of expanded product and services offerings, of which our proven low wind enhancements are just one example."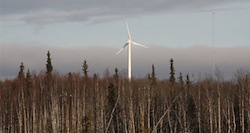 The NPS Low Wind turbine fleet has surpassed 50,000 operational hours with availability in excess of 97 percent, and has generated more than 1,500 MWh of energy, enough to power more than 150 U.S. (or 450 UK) homes for an entire year. The company says these improved models are optimized for low wind and yield comparatively more energy in low wind regimes.
The NPS 100-24 is based on the platform of the NPS 100-21, which was originally designed to service remote areas such as Alaska, where regular maintenance is not an option. The NPS 100 utilizes permanent magnet direct-drive technology and has fewer moving parts than a conventional gear-box based wind turbine. The larger rotor diameter, lower rpm and tip speed of the NPS 100-24 and 60-23 makes for quieter operation, while the longer blades capture more energy at lower wind speeds. The NPS 60 model generates 59.9kW rated power and is utilized in areas where grid connection capacity is a constraint.
Scottish farmer Mervyn Wallace recently installed an NPS 60 at his farm, his second Northern Power Systems wind turbine. "I'm excited that Northern Power came out with a new turbine that is designed specifically for lower wind speeds. I am very pleased with the revenue that both of my Northern Power turbines are now earning for me. NPS turbines are an excellent return on capital invested."