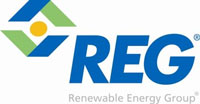 The nation's largest biodiesel maker is going to get a bit bigger. Ames, Iowa-based Renewable Energy Group (REG) announced it is buying Mason City, Iowa's Soy Energy and its 30-million gallon per year capacity biodiesel plant for $11 million in cash and the issuance of a $5.6 million promissory note to Soy Energy. This company news release says the plant was originally built in 2006, bought by Soy Energy and upgraded in 2010 to use more raw materials, such as animal fats and used cooking oil, but was shuttered last year.
"Renewable Energy Group's offer provides the best value for Soy Energy unit holders while helping unit holders achieve their mission for promoting economic development in the area," said Jeff Oestmann, Soy Energy's President and CEO. "In addition, REG's procurement know-how and proven business model of using lower cost raw materials makes them a reliable operator for this plant."
REG plans to repair then restart the refinery and further upgrade the plant in the future. The acquisition would increase REG's biodiesel production capacity to 257 million gallons annually. REG currently owns seven active biodiesel refineries in five states, including nearby plants in Newton and Ralston and Albert Lea, Minn.
"We are committed to the people of Mason City, Midwestern farmers and livestock producers and those who supply the fats, oils and greases we will buy," said Daniel J. Oh, REG president and CEO.
The re-opening of the plant will put 30 full-time wage earners back on the payrolls.