Global energy and commodity price reporting agency Argus has added a new tool to its arsenal: Argus India ethanol assessment. The company says the new product is designed to meet the growing demand for price reference and transparency in the market and was created in response to India's mandate for increased ethanol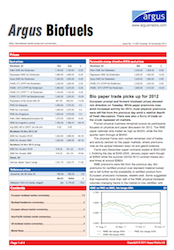 blending in gasoline. The daily assessment is specifically for anhydrous ethanol, delivered to India. Indian demand for ethanol is expected to rise to as much as 2.2bn litres next year (38,000 b/d) to fulfill the country's mandatory E5 blending. India plans to move to E20 blending by 2018.
According to Argus, the new assessment will provide a useful reference for the growing number of traders, brokers, planners, analysts, risk managers and strategic decision makers that follow this market. Argus spot market price assessments are based on a robust methodology, and are expected to be used by governments, regulators, oil companies with ethanol and biofuel operations, chemical companies, commodity firms, beverage companies and exchanges.
"We are delighted to introduce this assessment within a month of launching ethanol fob Pakistan (hydrous), ethanol cfr Philippines and B-grade cfr northeast Asia assessments. Argus now provides comprehensive coverage of Asian ethanol prices," said Argus Media chairman and chief executive Adrian Binks.
The new price assessment is published daily in Argus Biofuels, a global report covering various biofuel prices including assessments for Renewable Energy Directive (RED) compliant ethanol.