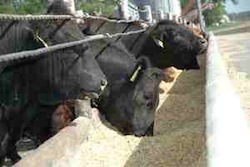 Iowa State University is conducting a survey of livestock producers use of feed-related co-products from ethanol production (distillers grains). The survey is focused on the beef, dairy, swine and poultry sectors. It is being funded by a coalition consisting of the Renewable Fuels Association, the Distillers Grains Technology Council and the Corn Utilization Councils from Iowa, Illinois and Nebraska.
"The feedback gained from the survey will be used to help improve co-product quality, which can help livestock producers with their feed costs and livestock performance," said Kurt Rosentrater, a professor of agricultural and biosystems engineering, who is leading the effort.
Livestock producers are invited to take the survey online until June 19, 2013.