The Clean Energy Collective (CEC) has cut the ribbon on the first community-owned solar array resulting from the Community Solar Garden Act. The 2010 Colorado legislation was sponsored by Representative Clair Levy as a means to encourage locally-produced clean energy.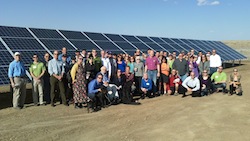 The Boulder Cowdery Meadows Solar Array was built on 3.5 acres of land located in South Boulder County and the 500kWh array will produce an estimated 830,000 kWh of power each year. The energy produced is being delivered to participating commercial and residential customers in Xcel Energy's territory. The Boulder Cowdery Meadows Solar Array is the first community-owned project in Xcel Energy's Solar Rewards program, and the state's first solar array through an Investor Owned Utility (IOU).
"We are particularly excited to be celebrating the grand opening of the Boulder facility," said CEC founder and Paul Spencer. "This is a significant milestone for Colorado, for Representative Levy, and for the long-term viability of our clean energy future through community solar."
CEC's community-owned solar model allows 100 percent of a utility's ratepayers, including businesses, renters, those with shaded properties, and people of all income levels, the opportunity to own clean, locally-produced energy. Members receive all of the same rebates and incentives of home-sited systems, and receive credit for the power produced directly on their monthly electric bills. Customers can purchase as little as one 1 kilowatt in the Boulder Cowdery Meadows Solar Array or enough fully offsetting their electricity usage.
CEC is also devoting 5 percent of the power produced by the more than 2,000 solar panels, or about 25 kW, to low-income residents through a unique partnership with Boulder Housing Partners, off-setting the electric bills for about 15 families living in BHP apartments.