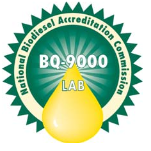 A California-based biodiesel maker is the first producer in the country to earn the BQ9000 Laboratory certification. This company news release from Community Fuels says they received the designation to go along with their earlier BQ9000 Producer certification:
"We are serious about quality and believe that biodiesel with reliable and predictable fuel performance is necessary for our industry to grow and prosper. Our extensive in-house laboratory, highly skilled personnel and analytic capabilities set us apart from others." said Christopher Young, Director of Operations for Community Fuels.
This certification also is expected to expand Community Fuels offerings which now include third party biodiesel testing for fuel produced by others. "Unlike other laboratories that perform a broad range of services, we specialize in testing and evaluating feedstock and biodiesel. This makes our laboratory a perfect choice for other producers, many of which do not have in-house capabilities to test and certify their fuel." said Mr. Young.
You can read more about the BQ9000 Laboratory certification here.