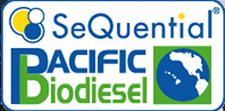 SeQuential-Pacific Biodiesel is teaming up with some pretty prominent companies in the Seattle area to turn used cooking oil into biodiesel. This column by the company in Biodiesel Magazine says it partnered with CenturyLink Field, Pike Place Market, Safeco Field, Taco Time Corp. and the University of Washington to create a closed-loop production cycle:
In 2012, SeQuential-Pacific recycled enough oil from Washington businesses to produce 1.48 million gallons of biodiesel and offset more than 10 million pounds of carbon. These partnerships also have tangible economic benefits. Restaurants working with SeQuential-Pacific are eligible for financial rebates for their used cooking oil. In addition, biodiesel made by SeQuential-Pacific is sold to commercial and retail fuel distributors throughout the state.
"Partnering with SeQuential-Pacific Biodiesel was a natural fit for Taco Time," said Colin Ury, Vice President, Business Affairs, Taco Time Northwest. "We have a company-wide commitment to supporting local sustainability efforts, and we love that our waste oil gets recycled into a locally made eco-conscious product that can be purchased right here in our own community."
Founded in 2005, Sequential-Pacific Biodiesel is the longest running commercial biodiesel producer in the Pacific Northwest, recycling cooking oil collected from local restaurants, businesses, hospitals and schools.