UPS is ramping up its natural gas fleet with the addition of approximately 700 liquefied natural gas (LNG) vehicles. In addition, the company will build four refueling stations by the end of 2014. Once completed, UPS says its LNG private fleet will be one of the most extensive in the U.S. The company has been operating natural gas vehicles for more than a decade. With natural gas prices 30-40 percent lower than imported diesel and U.S. production gearing up, the logistics company is investing more aggressively in the natural gas infrastructure necessary to make it part of the UPS delivery network.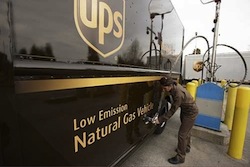 Worldwide UPS has more than 1,000 natural gas vehicles on the road today. UPS's alternative fuel and advanced technology fleet of more than 2,600 vehicles also includes a wide array of low-emissions vehicles, including all-electrics, electric hybrids, hydraulic hybrids, propane, compressed natural gas and biomethane. Since 2000, the fleet powered by alternative fuels and technologies has driven more than 295 million miles.
"LNG will be a viable alternative transportation fuel for UPS in the next decade as a bridge between traditional fossil fuels and emerging renewable alternative fuels and technologies that are not quite ready for broad-based long-term commercial deployment," said Scott Davis, UPS Chairman and CEO.
New UPS-built fueling stations in Knoxville, Nashville and Memphis, Tenn., and Dallas, Texas, will serve its heavy-weight rigs traveling into adjacent states. With the addition of accessible LNG fueling stations, UPS also will add LNG trucks on routes from Dallas, Houston and San Antonio to further extend territory.
An initial investment of more than $18 million to build fueling stations will be supported by the purchase of these 700 LNG tractors and continued expansion of the natural gas fleet in the U.S.  UPS already operates 112 LNG tractor trailers from fueling stations in Las Vegas, Nev.; Phoenix, Ariz., and Beaver and Salt Lake City, Utah, and has its own LNG fueling station on its property in Ontario, Calif.
"When other shipping and logistics companies are talking about possibilities, we are putting alternative fueled vehicles on the highway," said Davis. "LNG is a good alternative to petroleum-based fuel for long-haul delivery fleets as it is abundant and produces reduced emissions at less cost. At UPS, we are helping to knock down some of the biggest hurdles to broad market acceptance of LNG in commercial transportation by continuing to establish vehicle demand, fuel and maintenance infrastructures."