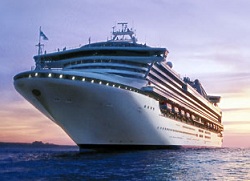 With the tag line of "escape completely," Princess Cruises looks like it's trying to escape to a more environmentally friendly fuel: biodiesel. This company news release says it has been honored by the Port of Seattle with a Gold Level Green Gateway Award for the line's environmental stewardship, including turnings ships' used cooking oil into biodiesel.
"We're gratified that the port has recognized us for making a difference in local environmental efforts," said Jan Swartz, Princess Cruises executive vice president. "Passengers come to beautiful ports such as Seattle to experience the area's natural beauty, so we are committed to doing our part to keep it that way."
The company goes on to point out that its environmental goals and policies go beyond what is required by law and how Princess Cruises is committed to high environmental standards.