UOP LLC, a Honeywell company, has been selected by Malaysia's Petroliam Nasional Berhad (PETRONAS) to provide technology for acid gas removal on the world's first Floating Liquefied Natural Gas (FLNG) project, known as PETRONAS Floating LNG 1or PFLNG 1. The PFLNG 1 facility, which is designed to extract natural gas from offshore wells and liquefy and store it for later transport, will use Honeywell's UOP Amine Guard FS process to remove carbon dioxide and hydrogen sulfide from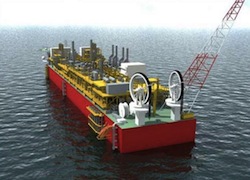 the liquefied natural gas (LNG) feed streams.
"We are pleased to continue to grow UOP's long-standing relationship with PETRONAS and for the opportunity to work with the company on its historic first floating LNG project," said Rebecca Liebert, vice president and general manager for Honeywell's UOP Gas Processing and Hydrogen business unit. "UOP offers a full suite of leading-edge, agile gas processing technologies, enabling us to design solutions for customers monetizing their gas resources. Together with PETRONAS, we are excited to bring continued improvements to meet the world's growing demand for cleaner-burning and versatile natural gas energy in this new frontier of gas conditioning and treating."
Scheduled for start-up by the end of 2015, the FLNG unit will be moored approximately 112 miles off the coast of Sarawak, Malaysia, and is designed to produce 1.2 million tons per year of LNG.
FLNG facilities such as PFLNG1 represent a step change because they allow these operations to be carried out far from land and closer to offshore gas sources. UOP says they will play a significant role in efforts to unlock gas reserves, particularly in remote and stranded fields previously deemed uneconomical to develop.