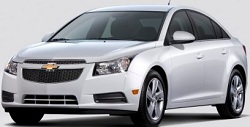 The latest Chevy to hit the streets, the new 2014 Chevrolet Cruze Clean Turbo Diesel, capable of using B20 biodiesel blends, is being touted as getting better mileage that some hybrids out there. This company news release points out the Cruze Clean Turbo Diesel gets an industry best EPA-estimated 46 MPG on the highway, better than any non-hybrid passenger car in America:
"We harnessed generations of diesel expertise to adapt our world-class global engine for the North American market," said Gary Altman, chief engineer, Chevrolet Cruze Diesel. "The Cruze Diesel is the best diesel passenger car out there. Chevrolet is redefining the meaning of great fuel economy with this car."
Cruze Diesel also beats its rivals in performance with a segment-leading estimated 148 horsepower (110 kW) and estimated 258 lb-ft of torque (350 Nm), and can go 0-60 in about 8.6 seconds. Its advanced 2.0L turbo-diesel engine has an overboost feature capable of increasing torque to an estimated 280 lb-ft (380 Nm) for short bursts of stronger acceleration when needed, such as entering freeway traffic.
While Chevy touts the Cruze Diesel as its cleanest diesel passenger car engine, generating 90 percent less Nitrogen Oxide (NOx) and particulate emissions when compared to previous-generation diesels. Just think how much cleaner it will be when you use clean-burning biodiesel in it.