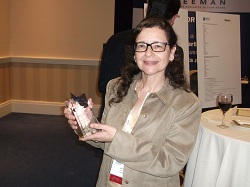 While some of the talk at the recent Advanced Biofuels Leadership Conference has focused on pointing fingers at the oil companies and some of the oil companies pointing back, at least one biofuel provider was saying we need them both. Jennifer Holmgren (shown holding an award for being one of the movers and shakers in the biofuel world), the CEO of LanzaTech, a company that turns carbon monoxide into ethanol, wants to take an "all-of-the-above" approach.
"It is so important for us to get as much energy and fuel into the pool that we need to have all of the solutions that can provide sustainable fuels at the table," including natural gas, petroleum, algae, biomass, among others, she says … all providing economic, social and environmental sustainability.
Jennifer admits that is easy to say but tough to do. She says we need to look at the current state as part of a long journey to commercialize these processes. She adds that both sides need to tone down their rhetoric and recognize that oil is not going away, but it's not enough to meet all of our energy needs.
"If you can get both sides to agree that oil doesn't give us all the answers but is a necessary piece of the equation, I think we'll be fine," she says.
Jennifer is encouraged that so many oil companies attended the ABLC and are involved in the renewable energy business. She believes it's a good start of better trust and patience between biofuels and Big Oil.
Hear all of my conversation with Jennifer here: Jennifer Holmgren, LanzaTech