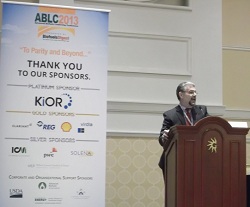 One of the great things about the Advanced Biofuels Leadership Conference is the diverse group of biofuels stakeholders with diverse points of view. Case in point, Shell Oil's presence at the gathering, and the company's Downstream Policy & Advocacy Manager, North America, John Reese, who makes the contention that it's not the oil companies who are creating the E15 blend wall.
"We are really maxing out on the ability to blend ethanol into gasoline," he says because the automakers don't approve above E10 blends for about 95 percent of the cars and trucks on the roads now. "EPA did approve the use of E15 for 2001 and newer vehicles, but the issue is the automobile manufacturers don't support that."
Groups such as the Renewable Fuels Association contend differently, and even Secretary of Agriculture Tom Vilsack told me that those 2001 and newer non-flex fuel vehicles should be able to use E15 without any modifications to those vehicles. But John says we should believe those who have built and tested the vehicles. And while that's coming from a big oil company, he says Shell supports biofuels because, frankly, the company has a stake in the success of the green energy market.
"We have a joint venture to produce ethanol, and we have interests in cellulosic biofuels going forward, so we're really looking to find solutions to this."
Listen to my entire interview with John here: John Reese, Shell