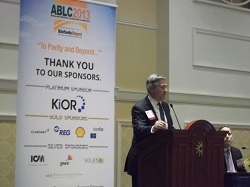 A big part of any business operation is being able to secure the capital to allow the company to get started and grow properly. Obviously, that's no different for the biofuels industry, and attendees at the Advanced Biofuels Leadership Conference heard some good news from the financing side of the house.
"I think the overarching message of the panel was a sign of increasing optimism," says Chris Groobey, a partner in the law firm Wilson Sonsini Goodrich & Rosati, who spoke during a session on debt financing. He says the last year and a half has been a tough time for the biofuels industry, but it's not because the companies were doing anything wrong. It had more to do with the political and external environments surrounding the industry. And now he's optimistic things are changing on the government and private financing fronts.
"Now you have folks who have made their companies and projects even better, and now that you have a solidified political environment, you have an opportunity now to do better things legislatively and you have folks in the government and private sector side of the money who are very, very motivated to get this moving. And they see 2013 as the time to do that."
Chris adds that while there seems to be more Departments of Energy and Defense grants to use, those can be tricky to make sure the money is lined up correctly. Law firms such as his specialize in helping biofuels makers to navigate that maze.
He says while it's pretty tough to get venture capital money in to the industry right now, there are plenty of opportunities to get debt investors involved, including some pretty big financial institutions that want to be part of this green energy market.
Listen to more of what Chris had to say here: Chris Groobey, Wilson Sonsini Goodrich & Rosati