Shell and TravelCenters of America LLC have finalized an agreement to develop a U.S. nationwide network of liquefied natural gas (#LNG) fueling centers for heavy-duty road transport customers. The plan is to construct at least two LNG fueling lanes and a storage facility at up to 100 existing TA and Petro Stopping Centers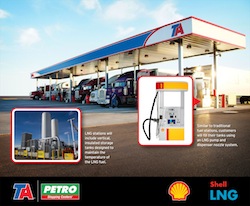 branded full service travel centers along the U.S. interstate highway system, in a phased approach.
The two companies anticipate the first of LNG stations to open by the end of this year, with a priority to develop main trucking corridors to provide the potential for the first-ever coast-to-coast LNG-fueled commercial transport network.
"Shell is investing now in the infrastructure that will bring this innovative, cost-competitive and environmentally beneficial fuel to our customers," said Elen Phillips, Vice President, Shell Fuels Sales & Marketing Americas. "We are leveraging our strength as an integrated company to produce, liquefy, distribute and commercialize natural gas in transport – and TravelCenters of America is the ideal partner to help us bring this vision to life."
Demand for innovative fuels, like LNG, from commercial customers is growing due to the wide range of benefits for trucking fleet operators says Shell. These benefits can include lower fuel costs, the potential to reduce emissions as well as reduce noise levels in certain engines.
"We see great potential for LNG as a fuel option among our range of quality fuels, due to the sheer abundance and affordability of domestic natural gas in North America," added Phillips.