Indiana University Bloomington has reduced its greenhouse gas emissions (GHG) by 43 percent last year from the previous year and has now cut its direct emissions by more than half in the past two years, according to campus officials. The major reduction in GHG emissions over the past two years reflects a concerted shift from coal to natural gas usage at the campus's Central Heating Plant according to Mike Jenson, director of IU's Office of Environmental Health and Safety Management. The campus has already exceeded a goal set forth in IU Bloomington's 2010 Campus Master Plan, which called for a 30 percent reduction in greenhouse gas emissions by 2020.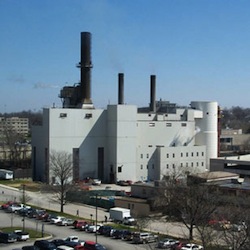 "This is a very positive step — perhaps the most significant step the campus has taken so far — toward carbon neutrality," said Mike Jenson, director of IU's Office of Environmental, Health and Safety Management.
The Campus Master Plan, spanning several years, established a goal to build "fuel flexibility" into the boiler system, ensuring the campus could take advantage of falling natural gas prices to dramatically cut its carbon footprint. "In recent years, there has been a strong dedication among our utilities group toward reducing our emissions and increasing our energy efficiency as much as possible, so when there were changes in the marketplace, we were in a position to shift more and more resources to natural gas," said Jenson.
"Still, we were surprised by the magnitude of our reduction," he added. "Because we were burning so much more natural gas than ever before, we knew it was going to drop, but we didn't expect it to drop that much." The campus power plant now uses 95 percent natural gas and only 5 percent coal. Among the next steps for the campus is increasing its focus on energy efficiency in its buildings and facilities.
In December, IU trustees approved a new Integrated Energy Master Plan for the IU Bloomington campus that provides detailed guidelines for reducing campus energy use and cutting carbon emissions while maintaining sound economic rationales for conservation-related improvements. The plan benchmarks energy consumption by campus buildings and addresses the current and future effectiveness of the Central Heating Plant, Central Cooling Plant and utility distribution systems for electricity, chilled water, and steam and condensate.