Earth Day is around the corner and 75 Olympic medalists, including White House "Champion of Change" awardee and pro snowborder Jeremy Jones, along with other winter sport athletes are urging President Obama to take action on climate change and clean energy and delivering the message that "winter is in trouble." The athletes signed a letter to Obama and delivered it in tandem with the "Champion of Change" ceremony honoring ordinary Americans doing extraordinary things in their communities to out-innovate, out-educate, and out-build the rest of the world."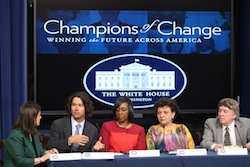 "Without a doubt, winter is in trouble," the letter states. "… at risk are the economies of tourist-dependent states where winter tourism generates $12.2 billion in revenue annually, supports 212,000 jobs and $7 billion in salaries. Those are the jobs and businesses owned by our friends and families, generators of billions in federal and state income."
Jones was recognized for his contribution to raising awareness about the impact of climate change on the winter sports industry by creating "Protect Our Winters," a foundation established in 2007 to unite and mobilize the global winter sports community against climate change.
"This nomination is an absolute honor for me and the work we're doing at POW. But it's now my responsibility to take this recognition and help secure a place in the climate discussions in Washington," said Jones. "The letter that's been enthusiastically signed by so many amazing athletes is a strong showing of solidarity from the leaders in snow sports on climate action, so together, we have to keep that momentum going."
The letter to the president references a December 2012 report published by #ProtectOurWinters and the @NRCS (Natural Resources Defense Council) highlighting the economic impact of inconsistent winters on the U.S. snow sports community and tourism-dependent states. It calls for Obama to follow through on the promise he made in the State of the Union address to fight climate change. The athletes say he can do so by using executive authority currently available to reduce carbon pollution emitted by America's power plants, the largest source of carbon pollution worsening climate change, and by rejecting the Keystone XL pipeline, which would add millions of tons of new carbon pollution to the atmosphere.
"Mr. President, it's time to force our transition to clean energy, and we need your leadership," the letter states. "…on behalf of 23 million of us who love winter and depend on it for our economic livelihoods, please take the action on climate change you have promised."