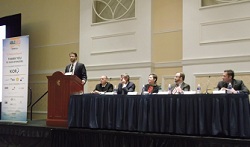 How can we tell the Renewable Fuels Standard (RFS) is working? By how nervous it's making the big oil companies. That was the message attendees at the Advanced Biofuels Leadership Conference near Washington, D.C. heard.
"We are disrupting an existing marketplace," says Brooke Coleman, Executive Director of the Advanced Ethanol Council. "We are not social media. We are not creating a new search engine. We are not doing something new… we just happen to be doing what other people are doing, better."
Brooke says that has made some pretty powerful enemies of biofuels, who are spending a lot of money to destroy the biofuel brand … from corn ethanol to biodiesel to cellulosic biofuels. But he's confident their attempt to change the Clean Air Act, and thus the RFS, will fail, ultimately because of the political allies biofuels have made.
"You've got Republicans and Democrats who see this thing [RFS] work, create jobs … just shy of 400,000 … and it's just hard to change," adding the political environment is not conducive to wholesale changes to either the Clean Air Act or the RFS.
Brooke says the diverse group that makes up the biofuels coalition is more together than ever, with efforts like Fuels America, a coalition to protect the RFS and the renewable fuels industry, and more collaboration than ever … without getting hung up on differences within the biofuels sector.
"We don't agree on everything, [but] the trick is not to get so focused on the one or two things we don't agree on … and focus on what we DO agree on."
Listen to more of my interview with Brooke here: Brooke Coleman, AEC