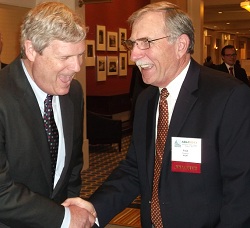 There's some real negativity hanging over the biofuels industry these days. And while any industry has risks, it seems that the setbacks loom larger over the renewable energy sector compared to what their competitors in the conventional energy sector face. In his talk before the Advanced Biofuels Leadership Conference, "De-Risking a Risky World," Fred Cannon, the CEO of cellulosic fuel maker KiOR, told the group that the biggest challenge facing the biofuels industry is perception, and they have to shift their thinking to a perception of success for others to see them as successful (his infectious positive attitude is probably why USDA chief Tom Vilsack singled him out to talk with him one-on-one at the conference).
I caught up with him afterwards, and he told me the way to overcome the negatives hanging over the industry is to highlight the wins out there.
"You build it one success at a time," Fred says. "Every company that starts producing and putting fuel in American cars, you just build on that momentum. And that mitigates the risks."
But there's an old saying that I remember from my days in the Air Force (and we'll clean it up here for general audiences): one "Oh, shoot!" kills a hundred "attaboys." Fred says we can't get overwhelmed by the setbacks and feed more into the negative attitudes sometimes around biofuels, because everything seems to get amplified when you're talking renewable energy. And he says there's a good way to overcome all the negativity … outside and within the biofuels industry.
"Put clean, sustainable fuel in American cars," adding that when KiOR's Columbus, Mississippi cellulosic fuel plant is fully operational, it will put that clean fuel in 25,000 cars a year. He also urges patience, because it takes time to create a new technology.
"We have so much opportunity: a massive market, RFS2, technologies developing. We just have to get through this perception issue of the industry. And we will … one success at a time."
Listen to my interview with Fred here: Fred Cannon, CEO, KiOR