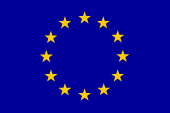 The European Union is targeting foreign biodiesel … again. Reuters reports this time the EU is looking to hit imports of biodiesel from Argentina and Indonesia with a duty to keep the green fuel out:
Those countries represent 90 percent of EU biodiesel imports and face retroactive duties from Thursday if an investigation finds the countries have benefited from illegal subsidies.
In an official publication, the European Commission said it had enough evidence that producer subsidies were "causing material injury to the (European) Union industry, which is difficult to repair".
The European Union is already registering biodiesel from some companies in the two countries as part of a separate case on alleged price dumping – deliberately selling products for less abroad than at home, or for less than they cost to make.
For Argentina, the world's No. 1 biodiesel exporter, EU regulators said taxes placed on exports of raw materials like soy bean oil used to make biodiesel, but not on the finished product, made it uneconomical to buy the fuel from European Union refiners.
A similar raw material export tax exists in Indonesia, which the Commission said undercuts European refiners.
Both Argentina and Indonesia say they are in line World Trade Organization rules.
U.S. renewable fuel producers have already had their own issues with the EU. Soybean-based biodiesel from the U.S. is banned in Europe, and anti-dumping measures were put on ethanol earlier this year.