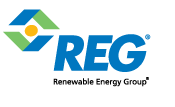 Things are looking up for Renewable Energy Group. According to this article on DailyPolitical.com, Piper Jaffray has increased the Iowa-based biodiesel maker's stock price target from $9.00 to $13.00 in a research note released on Friday morning:
"We are lifting our estimates and raising our price target due to strengthening industry fundamentals where biodiesel RINs continue to improve and feedstock costs are declining. Biodiesel RINs are currently trading at ~$0.80 up from approximately $0.50 at the beginning of the quarter due to the unique ability for biodiesel RINs to qualify for both the advanced biofuel market and the ethanol market and REGI is well positioned to benefit from this opportunity. In addition to higher RINs values, feedstock costs, including soybean oil and low cost feedstocks, have been falling since February. We are adjusting our model where 1Q13 adjusted EBITDA is modestly above management's previously guided range of $5-$15 mil and our 2Q13 adjusted EBITDA is at the high end of management's $15-$25 mil range.," Piper Jaffray's analyst commented.
The article goes on to say that several other analysts have issued buy ratings for REG's stock.