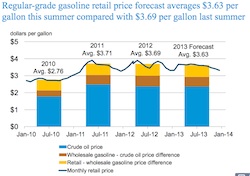 The U.S. Energy Information Administration (EIA) has released its April Short-Term Energy and Summer Fuels Outlook. Some report highlights include the prediction that the price for West Texas Intermediate crude oil will average $94 a barrel this year, the same as last year. The international benchmark Brent crude oi is forecast to be $4 less than last year at $108 per barrel.  According to EIA Administration Administrator Adam Sieminski, there will be continued strong economic growth in the emerging economies, particularly China, could put upward pressure on oil prices, though this would be offset somewhat by Europe's weak economy.
A colder than expected March led to increases in residential, commercial and industrial consumption for natural gas leading to a 260 million cubic feet per day increase in the 2013 estimate of total average U.S. gas consumption from last month's forecast. "Unusually cold temperatures in March led to larger-than-expected withdrawals of natural gas from storage," explained Sieminski. " The 94 billion cubic feet of gas pulled out of storage for the week ending March 29 was the largest net withdrawal for this time of year since EIA began its weekly storage data collection in 2002."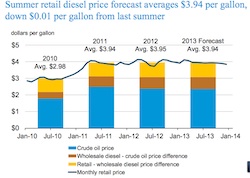 An expected increase in natural gas prices this year contributes to a drop in natural gas use for U.S. electric power generation, and an increase in output at coal-fired power plants according to the report. Coal's share of U.S. electricity generation is forecast to rise to nearly 40 percent in 2013 from just over 37 percent last year, but still be less than coal's 42 percent share in 2011. The report forecasts the rising cost of natural gas is expected to reduce its share of U.S. electricity generation to 28 percent this year from just over 30 percent last year, but this is higher than its nearly 25 percent share in 2011.
"U.S. drivers are expected to pay less for gasoline this summer, on average down 6 cents per gallon from last summer, due in large part to slightly lower crude oil prices that account for 65 percent of the pump price," said Sieminski. With more fuel-efficient cars and trucks on the highways and expected gasoline prices below last year's level, Americans will have lower motor fuel expenses this year."
"For diesel fuel, the average pump price is expected to be down 1 penny this summer to $3.94 a gallon. Production of distillate fuel, which includes diesel, is forecast to be 70,000 barrels per day higher,"added Sieminski.