Retail and wholesale distributors of fuels who are interested in installing new equipment to offer consumers more choice at the pump – higher blends of ethanol and biodiesel – can apply for financial assistance through the Iowa Renewable Fuels Infrastructure Program. Applications must be received by April 30, 2013 and will be considered at the May 14th meeting of the Iowa Renewable Fuels Infrastructure Board, who approves all applications.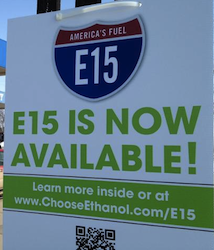 "Iowa is the national leader in production of ethanol and biodiesel and this program is designed to help make sure customers have access to these clean, homegrown renewable energy choices," said Iowa Secretary of Agriculture Bill Northey. "This program demonstrates the long-term commitment by Iowa to renewable fuels and I encourage both large and small fuel retailers to consider applying for assistance."
The program has cost-share funds available to cover up to 70 percent of the cost of converting old equipment, such as underground tanks or retail pumps, to new equipment designed to handle higher blends of ethanol and biodiesel. Grants to retail distributors are limited to a maximum of $50,000 per project and retailers must commit to selling renewable fuels for at least five years. Smaller grants of $30,000 are available for those only making a three year commitment.
Wholesale fuel distributors are also eligible for grants to offset the cost of new bulk storage and distribution equipment that can be used with higher blends of renewable fuels. Up to $100,000 is available, but requires a 50 percent match by company and a five-year commitment to handling renewable fuels.
The Iowa Legislature provided $3 million to the program for fiscal 2013 and nearly $1 million remains for this final application period. Funds not awarded this year can be carried into the next fiscal year. More information about the program, including guidelines and applications form are available here. In addition, the Iowa Renewable Fuels Association is also able to assist those interested selling higher blends of ethanol and biodiesel.