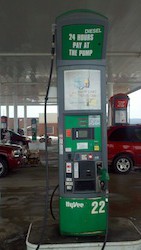 According to a new report from the Iowa Department of Revenue (DOR), the total amount of biodiesel blended into diesel in Iowa has more than tripled from 7.4 million gallons in 2010 to 23.3 million gallons in 2012.
The report also shows that biodiesel's market penetration has also made great strides, with biodiesel now blended in 42.6 percent of all Iowa diesel sales, an increase of more than 10 percent since 2010. Of those sales, the average biodiesel content has more than doubled since 2010 from 3.1 percent to an 8.1 percent blend of biodiesel.
"Based on the data, it's obvious that both retailers and consumers are realizing the benefits of biodiesel, and that's a win for Iowa," said IRFA Communications Director T.J. Page. "Taking into account the switch in the state's retailer tax credit from being applied to a 2 percent biodiesel blend to a 5 percent biodiesel blend and the continued support of the Renewable Fuel Standard (RFS), I expect biodiesel sales to continue on this upward trajectory and grow dramatically in the coming years."
Randy Olson, executive director of the Iowa Biodiesel Board also noted that biodiesel has room for growth for on-farm usage. Just 30 percent of distributors, he says, reported carry biodiesel.
"We're encouraging our state's farmers to demand biodiesel as they head into spring planting, and we believe distributors will respond to their customers," Olson said.  "Economic research shows soybean, corn, livestock and hog farmers all stand to gain from biodiesel production.  It is in their best interest to use their own product."
To view the entire Iowa Department of Revenue report, please click here.