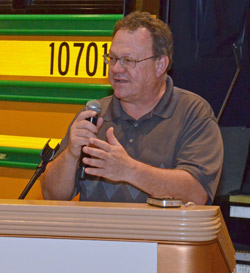 In an honor bestowed on just a few, the American Oil Chemists' Society honors the National Biodiesel Board's technical director Steve Howell with the prestigious AOCS Fellow Award. This NBB news release says Howell has been with the board for more than 20 years as it was just getting started, leading the biodiesel industry through completing Health Effects testing, establishing ASTM standards, and securing Original Equipment Manufacturer approval, to name just a few.
"Thanks to the many technical accomplishments of Steve Howell, the U.S. biodiesel industry is now a meaningful supplement to the nation's diesel fuel supply," said Joe Jobe, CEO of the National Biodiesel Board. The industry is on track for its vision of 10×22 – making up 10 percent of the overall U.S. diesel fuel supply by 2015 with a range of blends. "I can personally attest to his hard work, integrity, and very special talents. He deserves this recognition."
Formal conferral will happen at the Society's Annual Meeting in Montreal in May. To be named a Fellow is one of the highest forms of recognition conferred by AOCS, explained Mike Haas, a USDA researcher and Past President of AOCS.
"It's also rare for a person who is not directly involved in research at a university or a national lab, where they would generate a trail of publications by which evaluators can assess impact, to be named an AOCS Fellow," Haas said. "In its history AOCS has named only about 85 people as Fellows, and their names constitute some of the very best in the fats and oils professions from around the globe. Steve Howell deserves to be among them."
Congratulations, Steve!