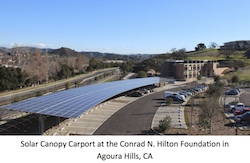 Panasonic Eco Solutions North America (Panasonic), has completed the installation of a solar photovoltaic (PV) parking lot canopy at the new Agoura Hills, California headquarters for the Conrad N. Hilton Foundation. Panasonic served a supporting role in the project that was developed and financed by RSB Funds (RSBF). The 115 kilowatt PV project will generate enough energy to operate over 20 average California homes for an entire year.
"Panasonic is pleased to have partnered with RSBF to deliver a comprehensive solar solution, including development, construction and financing, that will generate tangible and intangible benefits for the Conrad N. Hilton Foundation for decades to come," said Jamie Evans, Managing Director, Panasonic Eco Solutions North America.
The Conrad N. Hilton Foundation designed its new headquarters campus to address current and future professional and social responsibilities, including a focus on becoming increasingly energy efficient, environmentally responsible and aesthetically appealing. The solar PV carport system supports the organization's goal to exceed Platinum LEED standards and further demonstrates the Foundation's long-term commitment to sustainability.
"The use of solar power was an essential part of our plan to achieve LEED Platinum status and eliminate the use of fossil fuels. The project we completed with Panasonic helped us achieve this goal while enabling us to continue to maximize the allocation of our assets for charitable purposes," added Patrick J. Modugno, Vice President, Administration and CFO for the Conrad N. Hilton Foundation.