According to the most recent issue of the "Monthly Energy Review" by the U.S. Energy Information Administration (EIA), with data through December 31, 2012, renewable energy sources and natural gas expanded rapidly during the Obama Administration's first term while coal, nuclear power, oil imports and use, energy consumption, and CO2 emissions all declined significantly.
Comparing data for 2008 (last year of the Bush Administration) to data for 2012 (last year of the Obama Administration's first term), domestic energy production from renewable energy sources (i.e., biofuels, biomass, geothermal, hydropower, solar, and wind) grew by 23.48 percent with wind and solar more than doubling their output.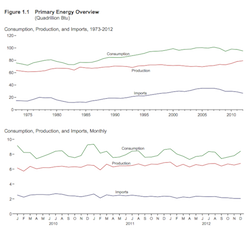 By comparison, total domestic energy production from all sources increased by just 8.15 percent with domestic natural gas and crude oil production growing by 18.71 percent and 29.47 percent respectively. Moreover, during the same period, nuclear power output declined by 4.47 percent and domestic coal production dropped by 13.28 percent. Total energy use declined by 4.16 percent, petroleum consumption decreased by 6.95 percent, CO2 emissions dropped by 9.38 percent, and imports of crude oil and petroleum products fell by 17.32 percent.
"The numbers speak for themselves – notwithstanding politically-inspired criticism, the energy policies pioneered by the Obama Administration have generated dramatic growth rates for renewable energy during the past four years, while significantly reducing oil imports and greenhouse gas emissions," said Ken Bossong, Executive Director of the SUN DAY Campaign. "The investments in sustainable energy made by the federal government as well as state officials and private funders have paid off handsomely underscoring the short-sightedness of seemingly endless proposals to slash or discontinue such support."
Looking at all energy sectors (e.g., electricity, transportation, thermal), renewable energy sources accounted for 11.23 percent of domestic energy production in 2012 – compared to 9.84 percent in 2008. In fact, renewable energy sources provided 10.47 percent more energy in 2012 than did nuclear power, although nuclear still provides a larger share of the nation's electricity (18.97% vs. 12.22%).
During the first four years of the Obama Administration, hydropower production grew by 7.01 percent, geothermal by 18.23 percent, biofuels by 40.66 percent, solar by 138.20 percent, and wind by 149.27 percent. Only biomass dipped – by 0.89 percent. Hydropower accounted for 30.21 percent of domestic energy production from renewable sources in 2012, followed by biomass (27.61%), biofuels (21.94%), wind (15.30%), geothermal (2.55%), and solar (2.39%). Note" These figures may not fully reflect the total contribution from renewable energy sources inasmuch as EIA data does not totally account for distributed, non-grid connected applications.