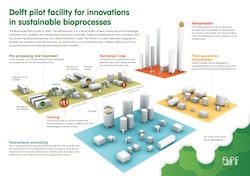 The Bioprocess Pilot Facility B.V. (BPF), a scale-up plant located on the Biotech Campus Delft, is attracting the right kind of attention. The "first green Minister-President" Mr. Kretschmann, the Minister-President of Baden-Württemberg, one of the federal states of Germany, visited BPF's facility to learn about their technology and contribution to the country's bio-based economy. After his visit, Mr Kretschmann said that it is good that companies and knowledge institutions have the possibility to carry out scale-up research in a facility that is unique in its experience with this type of research.
The BPF performs scale-up research into the pre-treatment of biomass feedstock, fermentation, and purification. The facility's objective is to show how to industrially make high-quality products like plastics from biomass. BPF says its scale-up research is an essential step towards the application of laboratory findings on an industrial scale.
Launched as an independent company mid-2012, the BPF will begin expanding its plant in May 2013. The extension will house additional equipment, mostly for the pre-treatment of biomass. During construction the fermentation and up-scaling facilities will operate as usual. The BPF is available to work with companies, universities and institutes that wish to explore the scaling-up of bio-processes. The BPF also offers its facilities to companies and knowledge institutes in Germany and other countries.