The U.S. House Energy and Commerce Committee has released a "white paper" analyzing the federal renewable fuels standard (RFS) and the so-called E10 blend wall. On page two, the white paper highlighted that new fuels are banned from competing with petroleum products unless first approved for use by the federal government. According to the Iowa Renewable Fuels Association (IRFA), this federal petroleum mandate hampers consumers from purchasing the ethanol blend of their choice.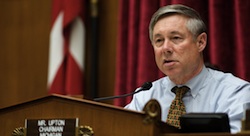 "It has been more than five years since the RFS was last revised, and we now have a wealth of actual implementation experience with it," the white paper explains. "In some respects, the RFS has unfolded as expected, but in others it has not. Several implementation challenges have emerged that received little if any consideration prior to passage of the Energy Independence and Security Act of 2007. Furthermore, the overall energy landscape has changed since 2007. It is time to undertake an assessment of the RFS."
In addition, the white paper examines issues for producers, refiners, auto manufacturers, and fuel retailers. and poses a number of questions for discussion. The committee is requesting interested stakeholders to send responses to these questions by April 5, 2013.
"IRFA welcomes a full, fair, and factual review of the RFS by the House Energy and Commerce Committee.  However, the initial white paper focused on the so-called "blend wall" is very one-sided," responded IRFA Executive Director, Monte Shaw. "In fact, it seems to approach every issue from the Big Oil point of view.  For example, despite the contention, there simply is no such thing as a real 'E10 blend wall.'  The reality is that refiners are going to great lengths to construct an artificial blend wall through their own direct actions as an excuse to tear apart the RFS.  Such a conclusion by elected officials would be highly ironic given that the RFS was enacted with the expressed purpose of cracking the petroleum monopoly and forcing the oil companies to allow alternative options to compete – options like cheaper, cleaner, higher performing E15.
"In what was perhaps an unintended moment of balance, the white paper does highlight that federal law establishes a federal petroleum mandate – a federally enforced prohibition of any fuel that contains less than 85 percent petroleum.  The federal petroleum mandate is one of the biggest problems today preventing fuel competition, consumer choice, and lower cost fuel options for Americans," concluded Shaw.