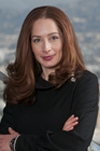 Credits for wind energy production and investment were approved as part of the deal to avoid the fiscal cliff at the beginning of this year. But deciding which credit is right for your operation and investment takes some good professional advice. Leah Karlov is a lawyer at Milbank, Tweed, Hadley & McCloy, a firm that specializes in the domestic sector, especially renewable energy tax credits. She spoke with Joanna to explain some of the implications of the wind energy credits and what they mean to the industry and investors.
"I think [the tax credits] stabilize the development and investment development," Leah explained, pointing out that the Production Tax Credit (PTC) and the Investment Tax Credit (ITC) have been renewed through the end of this year. One of the best features of the credit is that the project doesn't have to be finished and placed in service by the end of this year, as with previous versions of these tax credits, just starting construction. "What this is going to do is allow projects that were tabled because they could not meet the placed-in-service deadline to come back into action."
But just being able to use a credit doesn't tell an operation which credit they SHOULD use. For example, when comparing the Investment versus the Production Tax Credits, Leah said you need to understand the difference. For one, the ITC is a one-time 30 percent credit on what you invest, and you have to be invested in the project for five years or the tax credit is prorated for every year not involved. And even foreign investors and producers can take advantage of these credits. It really comes down to getting good advice on which one is right … or even a combination of credits that are right for your situation.
"Start talking to your counsel and to your accountants and anybody you've been in discussion with in respect to projects that haven't started yet. If you've got something in the pipeline, I'd start talking to the people who can help you get that moving, because this is the opportunity now to commence construction and get it going. There's a chance to do it now."
Listen to Joanna's interview with Leah here: Interview with Leah Karlov