Remember the days when the ethanol industry was growing like gangbusters? And then the industry was hit with overblown concerns that are still prevailing such as "food versus fuel," "land use" and environmental concerns relating to just how much greenhouse gas reductions biofuels offer as compared to traditional petroleum fuels. Then the recession took down ethanol plants, companies and consumers alike, and yet the ethanol industry still bounced back. Not enough hardship? Que last summer's drought. Once again the ethanol industry took another hit and with this, the rural communities where most ethanol facilities are located, have begun to struggle as well.
The New York Times is remembering ethanol's past and looking to ethanol's future in its article, "Days of Promise Fade for Ethanol." With nearly 10 percent of the plants idled and ethanol storage nearing capacity due to a drop in gasoline use, the Times is asking the question of whether ethanol's light has faded. While the industry admits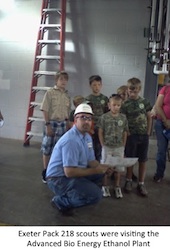 times have been challenging, Todd Sneller, with the Nebraska Ethanol Board (NEB), says in the article that the industry remains optimistic that technological innovations and sound public policy will keep the industry afloat.
So what would happen to consumers across America if the ethanol industry fades away? One doesn't have to live in a rural community to feel the impact if such a situation were to occur. Gas prices would go up. The country would need to increase its dependence on oil with all the problems that brings. People who were able to live and work in their hometowns will leave for jobs in larger communities with higher living expenses and less pay. Local, rural businesses will shut down. Homes will be shuttered.
Is ethanol's light truly fading? Not if the industry can help it. The biofuel industry brings good paying jobs to rural areas across the country. Ethanol both extends the gas supply and lowers prices at the pump. Ethanol is a proven environmental asset for the transportation sector. Ethanol and the ethanol industry has other benefits as well. Yet why don't people around the country or other know this? Because the industry doesn't do a good enough job of telling its story in visually compelling ways.  Where are the faces of ethanol? Are you one? Get involved, tell us your story. The industry needs to be heard so it's light keeps shining strong.