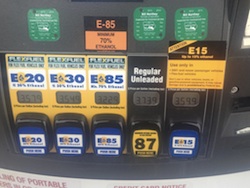 Dave Sovereign from Cresco, Iowa has been busy. Last week he helped to convert the Fast Stop station he owns in his hometown to E15. Then he caught an airplane to Washington, D.C. to participate in the American Coalition for Ethanol's (ACE) Biofuels Beltway March where he met with a number of freshman Congressman. Fast Stop, located in Northeast Iowa at 22268 Highway 9 West in Cresco, marks the fourth retailer in Iowa to offer consumers additional fuel choices at the pump.
Sovereign said from the time the Iowa Renewable Fuels Association helped him file the application to the Environmental Protection Agency (EPA) to become an approved seller of E15, it only took about 45 days to when he began to sell the fuel. In the case of Fast Stop, Sovereign said they already had a blender pump in place so it was just a matter of adding E15 to the pump using EPA's recommendations.
"Consumers need more renewable fuel choices to support our communities and keep dollars in our local economies," said Sovereign. "Since flex-fuels were not available in Cresco, a group of local business leaders formed an LLC, purchased land and constructed a fueling location to remedy this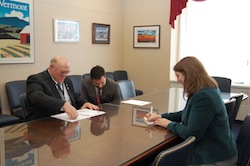 situation. Also, with unblended 87 octane gasoline no longer being shipped through the pipeline this fall, ethanol blended fuels will dominate Iowa's fuel market and we wanted to be on the cutting edge with E15."
During his meetings with legislators, Sovereign discussed E15 and told his personal story about bringing E15 to his area. He said that the majority of those he met with were optimistic about ethanol and that the legislators appreciated his coming to DC to hear is story first hand.
Listen to the interview with Dave Sovereign interview here: Fast Stop in Cresco, IA Offering E15