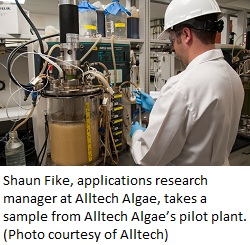 Animal health company Alltech will hold a symposium on algae with hopes of expanding the pond scum's potential beyond biofuels and into sustainable food production. The 29th Annual Alltech International Symposium is to be held in Lexington, Ky., May 19th-22nd:
"We will focus on algae as part of the foundation of the food chain by identifying the importance of DHA and how it can balance the omega-6:omega-3 ratio in today's Western diets," said Becky Timmons, chairperson of the algae-related track at Symposium. "As we look toward the future of nutrition, there is an increasing need to find high-quality, alternative raw materials to feed the growing population. There is a big challenge in front of us – we need to provide consumers the right nutrition, a balanced diet of fatty acids, vitamins and amino acids. We must be forward thinking and identify various opportunities to use value-added solutions in order to provide nutritious food to the world."
This year the symposium will offer breakout sessions focused on algae, including:
Simplify Your Food Chain: Algae as the Foundation of Nutrition in the Future
You Are What You Eat: Better Health Through Better Nutrition and the Role of DHA
Anything You Can Do, I Can Do Better: Identifying the Opportunities for Value-Added Products
Organizers hope this will offer attendees a more holistic experience, with discussions ranging from algae and agriculture's carbon footprint to nutrition and marketing.
Registration and more information is available here.