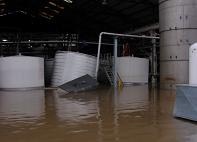 A biodiesel plant that was nearly completed and put on hold when Hurricane Ike roared ashore in south Texas in 2008 will get new life today. This article in the Houston Business Journal says Houston's Channel Biorefinery & Terminals LLC will hold a re-groundbreaking ceremony today at 2:30 pm CDT at the site of the 105 million gallon GreenHunter Biofuels biodiesel production facility on the Houston Ship Channel:
The facility was almost operational when Hurricane Ike hit the Gulf Coast and flooded the facility, said Channel CEO Ken Brown.
"It brought everything to a standstill," he said.
Within the same time frame, the economic crisis hit with the bankruptcy filing of Lehman Brothers.
"When (the previous owner was) ready to commence, there was no money to finish, no working capital, and the plant went into hibernation and receivership," Brown said. "And there it sat until we bought it."
Officials with Houston's Channel Biorefinery & Terminals LLC say they expect to start producing 3 million gallons of biodiesel a year this summer, ramping up the operation to full capacity in the next two years.