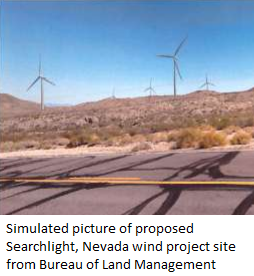 A project to build wind turbines to be built on federal lands got the government's approval to move ahead. KLAS-TV in Las Vegas reports Sen. Harry Reid's (D-NV) office announced the Department of the Interior has a approved the 200-Megawatt wind project in Searchlight, Nevada, just the second utility-scale wind energy project to be allowed in the state:
The permanent wind farm will be located on 163 acres and the wind turbines are designed to stand 415-feet tall, according to the Bureau of Land Management.
"Nevada is fortunate that its sunny skies, strong winds, and geothermal resources provides us an opportunity to brighten our economic future and transform the Silver State into the vibrant core of a Western and national clean energy market," Reid said in the statement.
The project is expected to provide enough power for about 70,000 homes. It is still awaiting a right-of-way grant, according to the Interior Department.