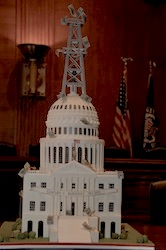 The Iowa Renewable Fuels Association (IRFA) and the American Coalition for Ethanol (ACE) along with a full house, celebrated a "Century of Subsidies" for Big Oil today with a miniature version of the Capitol cake and ice cream. The cake was created by Charm City Cakes especially for the event that highlighted the fact that oil industry has received certain subsidies since 1913 – 100 years.
"Today's 'Century of Subsidies' birthday party was not about saying every tax subsidy the oil companies get is bad," said Rick Schwarck, President of the IRFA and CEO of Absolute Energy, an ethanol plant near St. Ansgar, Iowa. "Today's 'Century of Subsidies' birthday party was a reminder to policy makers that Big Oil has benefited from taxpayer support for 100 years – and not just with tax subsidies, but mandates and loan guarantees and other policies."
"So when the debate heats up over the Renewable Fuel Standard (RFS) and other renewable fuels policy, the debate should be a full, fair and factual discussion that takes an honest, hard look at how federal policy has been tilted in favor of Big Oil for a century," continued Schwarck. American consumers deserve a level playing field that does not hold back homegrown, low-cost renewable fuels options."
U.S. Senator Chuck Grassley (R-Iowa), who was voting on budget issues during the event submitted a statement in response to one hundred continuous years of oil subsidies. "America needs 'all of the above' for its energy policy, including domestic oil and gas, renewable energy, conservation, and emission-free nuclear. Oil, gas and nuclear all receive longstanding federal support. Any changes to support for renewables should be made within a broad-based energy policy discussion. Targeting renewables outside of a comprehensive debate doesn't make any sense when it comes to good policy, and it's intellectually dishonest if the effort is driven by competition that receives federal support."
U.S. Senator Tom Harkin (D-Iowa) added, "This issue comes down to one thing: supporting renewable energy and our country's energy security, all while creating good, middle class jobs that sustain a green economy in states like Iowa. That is why keeping the Renewable Fuel Standard in place is so critical. I salute ACE and the Iowa Renewable Fuels Association for recognizing these contributions and continuing their
support at a time when it is needed the most."
On Tuesday and Wednesday, nearly 70 ethanol advocates from around the country met with Congress to discuss the Renewable Fuel Standard (RFS), E15 and other ethanol related topics as part of ACE's Biofuels Beltway March. The point of the press event was to show the need to counterbalance the "Century of Subsidies" and other policies that favor petroleum, in part by protecting the federal RFS. The RFS cracks open the petroleum monopoly to give consumers non-petroleum choices at the pump. Consumers benefit from market access to lower cost renewable fuels like E15 and E85.
Listen to the Century of Subsidies press event here: Celebration of a Century of Subsidies