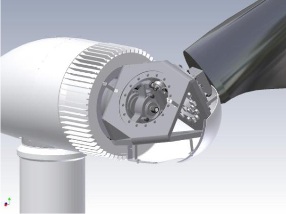 A wind turbine designed to serve up to two homes is being tested in Canada. CBC News reports the mid-sized turbine designed by students from 16 universities from across Canada have is being tested at P.E.I.'s Wind Energy Institute of Canada and is intended to hit that niche between the really small turbines and the bigger ones too large to service individual homes.
"There are some turbines in that size, but it seems they're either smaller — so a couple of kilowatts, there's a large number — and then we've got others that are up in the 30, 50 to 100-kilowatt range," said [Wind Energy Institute CEO Scott] Harper.
"There's maybe a market niche there for something in the 10-kilowatt size. I think it was more, as they designed it, it was big enough, designed large enough to prove that it can work, and test it here to show real results."
The project, created by a group called the Wind Energy Strategic Network, is being tested through next fall.