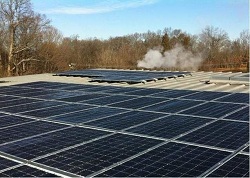 A maker of a traditional St. Patrick's Day favorite is doing more than just wearing the green; it's going green! Salisbury, North Carolina-based Freirich Foods, makers of some fine corned beef, put in 93 kilowatts of photovoltaic solar at its headquarters plant, according to this story in the Salisbury Post:
The rooftop system is comprised of 377 solar panels using roughly 5,600 square feet of roof space. The system uses a non-penetrating solution that clamps to the standing-seam metal roof.
The system will produce enough electricity to meet the requirements of 10 average American homes and offset the annual CO2 emissions equivalent to 8,113 gallons of gasoline. The project was engineered, procured, and constructed using a local workforce by commercial solar contractor United Renewable Energy LLC and financing was provided by Vantage South Bank.
Freirich is already considered pretty good at being green (and not just on St. Patty's Day). The company developed a comprehensive recycling program that takes 200 tons of waste a year from landfills. And Freirich employees get cash incentives for purchasing electric vehicles and are provided charging stations for free.