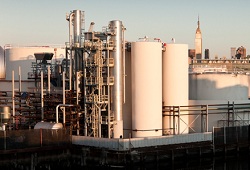 As the song goes, United Refining Company wants to see if it can make it in New York. In this case, "it" is biodiesel, and this United news release says it has acquired a partially completed 50 million gallon per year biodiesel facility in Brooklyn, New York from getting certain assets of Metro Fuel Oil Corp.
The state-of-the-art facility is estimated to become operational in approximately 12 months and upon completion, will be able to process a variety of feedstocks. When completed, it will be one of the largest biodiesel facilities on the east coast.
United Refining Company has a conventional oil refinery in Warren, Pennsylvania and sells gasoline at 360 Kwik Fill® / Red Apple® and Country Fair® outlets in western New York and western Pennsylvania.