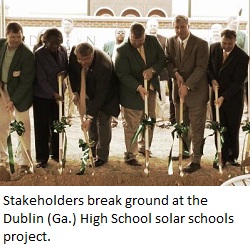 The Georgian namesake for that famous city on the Emerald Isle is putting on a bit of green itself (and why not? since we're so close to St. Patrick's Day!). Georgia Solar Utilities, Inc. congratulated Dublin, Ga.'s high school for the launch of the solar schools project that is expected to offset 40 percent of the schools annual power costs through solar power.
"We will now allow Dublin High to claim the title of greenest high school in Georgia…and not because of its shamrock." [Robert E. Green, CEO of Greenavations and Georgia Solar Utlities]

"This is going to be a very positive thing for us. It will start saving money for us immediately," Dublin City Schools Superintendent Dr. Chuck Ledbetter said.
The solar panels will be installed on the roofs and ground at the high school. The panels are expected to save the school district $100,000 in the first year and $3.5 million over the next 25 years.