The Iowa Renewable Fuels Association (IRFA) is teaming up with the American Coalition for Ethanol (ACE) during their annual Biofuels Beltway March fly-in in Washington, D.C. to hold a celebration for Big Oil. Monte Shaw, executive director of IRFA, said they decided it would be a great time to hold a birthday party to celebrate the oldest, continuous oil subsidy, specific to the oil industry, that was enacted in 1913.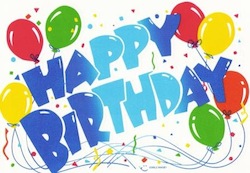 "And it dawned on us a few months ago that this is in fact the 100th birthday for oil subsidies and this calls for a party, and I think people can assume our tongues are firmly planted in our cheeks when we say we're going to celebrate that fact," said Shaw.
The "Century of Subsidies" Birthday Party will feature a thematic birthday cake sculpture from Charm City Cakes, made famous by its Food Network reality television show Ace of Cakes and take place at 430 Dirksen Senate Office Building (Washington, DC) on Thursday, March 14, 2013 from 2:30 pm to 3:30 pm. On hand will be Senators Chuck Grassley (Iowa) and Amy Klobuchar (Minn) and Senator Tom Harkin (Iowa) has also been invited.
The ethanol blenders tax credit, that Shaw explained actually went to Big Oil if they blended ethanol, expired at the end of 2011. "So little old ethanol somehow manages to get by without it but the 100 year old oil industry, the most profitable industry in the history of the world, still needs that taxpayer crush to get by at least that's the way they tell it," said Shaw.
Shaw explained there are several oil subsidies with the oldest federal subsidy going back to 1913. However, he said, to be fair they are not going to make the case that they all should go away. "What we're saying is, they're there. And we're sick and tired of members of Congress who don't know any better or don't want to know any better, saying, oh, why do you need the RFS?  Why do you this, why do you need that? Can't you just compete on a level playing field?"
"When the fact of the matter is, our competition has had 100 years of subsidization. They've had nearly 40 years of a petroleum mandate written into federal law that says unless you drive a flex-fuel vehicle, you will purchase gasoline with a minimum amount of petroleum (85% percent of petroleum). The playing field is overwhelmingly tilted to the oil industry and that has got to be a part of all discussions around the RFS," said Shaw.
Learn more about the "Century of Subsidies" in my interview with Monte: Century of Subsidies