The Propane Council of Texas (ProCOT) has launched a new campaign, Propane Autogas: Fueling Texas, to educate Texans about the benefits of running fleet vehicles and equipment on clean-burning propane autogas. The campaign officially kicked off last week during Texas Propane day, a ride and drive event at the Texas Capitol. The campaign will feature a series of statewide autogas presentations and road shows to provide fleet operators, drivers and community members a hands-on experience with clean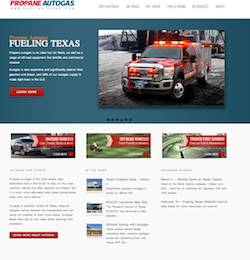 autogas technology.
According to ProCOT, Texas is one of the leading states in converting fleet vehicles to run on propane autogas.  The Texas Department of Transportation operates the state's largest autogas fleet and the Dallas, Houston and Austin Independent School Districts also use propane. The fuel is widely available in Texas with more than 700 fueling stations throughout the state.
"Vehicle fleets that use autogas save an average of 30-50 percent on fuel costs compared to fleets that use gasoline or diesel," said Jackie Mason, education and marketing director for ProCOT. "Plus, 98 percent of the U.S. propane autogas supply is made in America, and Texas is home to the world's largest propane storage capacity. Choosing autogas contributes to a greener, stronger economy on both a national and state level."
A new website was launched as part of the campaign, FuelingTexas.com, and will be regularly updated with news, educational resources and more. Fleet owners will find an array of information on the benefits of propane autogas, as well as available incentives, tax credits, upcoming events and details about autogas for both on-road vehicles and off-road options.