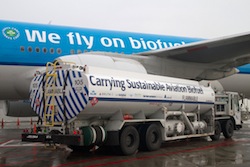 KLM Royal Dutch Airlines (KLM) in partnership with Schiphol Group, Delta Air Lines and the Port Authority of New York and New Jersey, have begun a 25-week series of biofuel powered international flights. Last week A KLM B777-200 fueled in part by biofuel derived from cooking oil, departed from JFK International Airport and landed in Schiphol Amsterdam Airport. According to KLM, carbon dioxide emissions from aircraft account for more than half of all airport-related emissions and the use of biofuels are expected to reduce CO2 emissions.
"I am proud that KLM is once again demonstrating its leading role in developing sustainable biofuel," said Camiel Eurlings, KLM's Managing Director. "For eight years in a row, KLM, together with Air France, has been sector leader on the Dow Jones Sustainability Index. Alongside this biofuel series, we are starting a study to further identify sustainability gains in fuel, weight and carbon dioxide reduction throughout the entire flight process.
"We are striving to achieve the 'optimal flight' together with research institutes, suppliers, airports, and air traffic control. We are combining new and existing technology, processes, and efficiency initiatives to achieve this," Eurlings concluded.
One challenge the aviation industry has faced is small volumes of aviation biofuels packaged with high costs for the fuel. KLM says a key initiative of the biofuel program is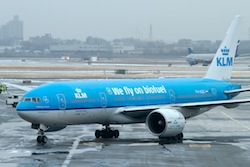 to drive demand for biofuels in a way that helps lower the cost of sustainable fuel to levels competitive with fossil fuels.
"The Port Authority is pleased to partner with KLM on their pioneering series of transatlantic biofuel flights," said Susan Baer, Aviation Director for The Port Authority of New York and New Jersey. "This program complements our agency's efforts to reduce greenhouse gas emissions at our airports and design resilient, energy-efficient, high-performance facilities for the future."
Participants in the biofuel pilot program are active supporters of the C40 initiative, a network of 40 of the world's largest cities – including New York and Amsterdam — taking coordinated action to reduce greenhouse gas emissions and address climate risks. The initial American biofuel flight in the series on March 8, 2013 was a return flight as part of a round trip from Amsterdam to New York and back to Amsterdam. For the remaining 25 weeks, the pilot program will involve weekly flights departing from JFK on KLM flight 642 on Thursdays.