During the NTEA Work Truck Show this week, ROUSH CleanTech and Green Alternative Systems (GAS) debuted the new Ford F-550 chassis cab powered by propane autogas. The F-550 features 65 usable gallons, making it, according to ROUSH, the longest driving range of any dedicated alternative fuel counterpart on the market. The fuel tank sits between the frame rails and behind the aft axle. Customizable to carry up to 33 passengers as a shuttle, the Ford F-550 suits the delivery, construction, transit and utility markets. Equipped with a 6.8-liter, V10 engine, the propane autogas alternative fuel system is available beginning with 2013 model year vehicles or newer.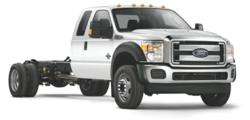 GAS, a certified Ford Qualified Vehicle Modifier (QVM) installer, integrated the ROUSH CleanTech propane autogas fuel system technology into the F-550 chassis cab. The vehicles maintain the factory Ford warranty and the same horsepower, torque and towing capacity as their gasoline counterparts.
"Partnering with Ford QVM installers allows us the flexibility to launch products faster and package our fuel system to fit customer needs," said Todd Mouw, vice president of sales and marketing for ROUSH CleanTech. "With gas and diesel prices soaring, companies looking for an alternative fuel that doesn't compromise functionality will see significant savings to their bottom line using this cleaner-burning, American fuel."
According to Mouw, fleet professionals running propane autogas vehicles can expect to save at least 40 percent on the price of fuel and reduce greenhouse gas emissions by up to 25 percent compared to gasoline. There is also a nationwide, large propane autogas refueling network.
"This is a monumental new product release for the fleet industry," added Sean Connolly, general manager of GAS. "With an industry-leading fuel capacity, this dedicated propane autogas vehicle fills the gap for a reliable alternative fuel option for this commonly used application."