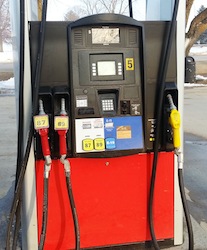 Kountry Korner in Baxter, Iowa has become the third retail location in the state to offer E15  as a registered fuel. E15, a blend of 15 percent ethanol and 85 percent gasoline, has been approved by the Environmental Protection Agency (EPA) for use in 2001 or newer vehicles.
"Our company is dedicated to environmentally-friendly practices and growing our local economy, so offering E15 was an easy decision," said Kountry Korner Owner Bryan DeJong. "The people of Baxter will really benefit from cleaner-burning, lower-cost, more American-made E15."
Kountry Korner is located in central Iowa at 312 E. Buchanan Street in Baxter. In order to offer E15, a retailer must register with the EPA. The retailer was helped throughout the process by the Iowa Renewable Fuels Association (IRFA), who assists retailers in the registration process to ensure they comply with all federal and state E15 regulations.
"E15 is starting to gain some traction in Iowa, and retailers are seeing value in offering fuel choice to consumers," commented IRFA Managing Director Lucy Norton. "The IRFA expects more stations in the state to offer the fuel in the near future as more and more Iowans begin to realize the benefits of this cleaner, less-expensive, high octane fuel."