During the 83rd Geneva International Motor Show, Innovative Mobility Automobile GmbH (IMA) unveiled its new electric one-seater Colibri. The lightweight, street legal vehicle is scheduled to enter production by late 2014 and in the first year around 17,000 EVs are expected to be produced at a price point of 10,000 Euro, with an additional monthly battery lease.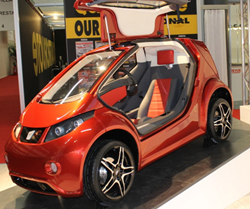 "Our vision was to construct an electric vehicle suitable for daily urban use, one which is safe and also fun. It was to be economic, ecologic, and easy to combine with other modes of transportation," said Thomas delos Santos, CEO of IMA.  We succeeded in achieving this. And the market feedback shows: the Colibri strikes a nerve."
Here are the specs: the Colibri measures of 2.75m length, 1.18m width and 1.30m height. A specially designed lifting mechanism eases entering and exiting, while pedals and steering wheel can be adjusted to suit drivers between 1.58m and 1.98m. The trunk offers enough volume for two crates. The lightweight frame is mounted on a magnesium-steel basis, reducing vehicle weight and energy consumption costs. The company anticipates the electric vehicle will pass all safety and crash tests.
Two CPM Twin engines provide 24 kW peak power. The car reaches a top speed of 120 km/h and accelerates from 0 to 100 km/h in 9.9 seconds. Electricity for a range of 110 km is provided by a high-performance lithium-iron-phosphate battery from the company Axxellon. Its distinct features are a long lifecycle and short charging times.