WattLots has installed a unique solar parking system, Power Arbor, at Runnells Specialized Hospital in Berkeley Heights, New Jersey. According to the company, the system uses mono-crystalline silicon solar cells and unlike typical flat panel systems, the open-air design of the Power Arbor does not collect snow. This reduces structural costs while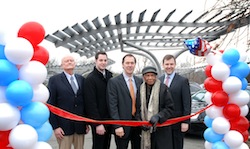 providing up to 60 more days of annual power generation, making it a good solution for Northeast Corridor lots or regions with regular snowfall. The structures are manufactured and assembled in New Jersey.
"The product's unique design answers a number of issues which plague conventional parking lot structures," said WattLots's CEO, William Kaufman. "The Power Arbor provides a uniquely styled parking lot canopy system that is specifically designed for the northeastern climate."
The company says its Power Arbor system provides substantial quantities of clean, renewable electrical energy at the source of demand where it is needed and it automatically rotates and follows the sun, increasing energy generation by up to 40 percent when compared to typical fixed installations.
"The Power Arbor development is illustrative of the value provided to emerging entrepreneurs by Clean Energy Alliance (CEA) members, in this case the NJIT Enterprise Development Center," said James F. Groelinger, Executive Director of CEA, of which WattLots is a member. "CEA members currently are mentoring hundreds of clean tech entrepreneurs and companies, many of which will become important contributors to our energy and environmental future while creating jobs in America.