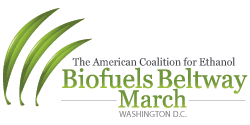 The plane is starting to fill up for the American Coalition for Ethanol's (ACE) Biofuels Beltway Fly-In in Washington, D.C. but there is still room! The event takes place on March 13-14, 2013 and the goal is to meet with dozens of key leaders and Congressional members to tell them personal stories about the benefits of ethanol.
"ACE has more than 40 grassroots ethanol supporters from 10 states registered to participate in the fly-in next week," says Brian Jennings, Executive Vice President of ACE. "Meetings have been requested with Members of Congress on both sides of the aisle and Capitol, particularly Representatives on key committees and those new to Congress. We are looking forward to an exceptional event; the fly-in is the single best way for our members to share their story and impress upon Congress just how much the RFS has delivered for our country, and how important it is to maintain it.."
Earlier this week the President nominated MIT professor Ernest Moniz as energy secretary and EPA official Gina McCarthy as administrator for the agency. Here are two more people that the industry will need to work with to help ensure the RFS and E15 both continue to roll out and both are on the invitation for meeting list for the Biofuels Beltway Fly-in.
All ethanol advocates are invited. Register now. DomesticFuel will be there. Will you?
To participate, visit www.ethanol.org, or contact Shannon Gustafson at (605) 334-3381 ext. 16 or via email.