Propel Fuels and Solazyme have announced the results of their pilot retail program and over the 30 days consumers were given a choice to purchase biofuels produced from algae, they chose the algal-based biofuel. In a survey of users, consumers said they prefer its environmental benefits compared to conventional fuels; would purchase more of it if it was widely available and would even pay a premium for it. The pilot program, which marked the first commercial availability of algal derived fuels, offered SoladieselBD in a B20 blend (20 percent biodiesel, 80 percent diesel) to consumers through Propel's Clean Fuel Points in Redwood City, San Jose, Berkeley, and Oakland.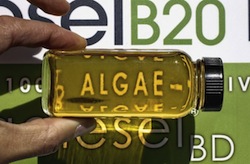 In the consumer survey, 92 percent of participants noted that they would be more likely to purchase algae-derived fuel for its environmental benefits; 70 percent indicated that they would purchase the fuel more frequently if it were derived from algae; and nearly 40 percent of customers indicated they would pay a premium for algae-derived fuel. The survey responses were reflected at the pump. Sales results reflected a 35 percent volume increase at Propel stations offering the algae-derived fuel over area sites not participating in the pilot.
"Our fuels have already been successfully demonstrated in fleet vehicles, corporate buses, military applications and the first U.S. commercial flight on biofuel," said Bob Ames, VP of Fuels, Solazyme. "The successful pilot program with Propel further exhibits strong consumer appetite for the superior performance and environmental properties of Soladiesel." The algal-based biofuel, SoladieselBD meets or exceeds ASTM quality specifications and has shown performance enhancements including superior cold temperature operating performance and environmental benefits, according to Solazyme.
"Propel is committed to providing drivers true choice at the pump by bringing to market the world's highest quality and most sustainable fuels," added Matt Horton, CEO of Propel Fuels. "The results show strong preference for algae-based fuel, and we are thrilled to have partnered with Solazyme to enable our customers to be the first in the country to purchase this next generation biofuel."